Before you buy a home in Alaska during the winter, be sure to read this guide on winter buying tips!
Posted by Larry Ficek on Saturday, November 26, 2022 at 3:35:10 PM
By Larry Ficek / November 26, 2022
Comment
Buying a home in Alaska during the winter can be an exciting experience, but there are some important considerations to take into account. The snow that covers our region for much of the year often masks potential issues with a property. Before completing a purchase, it is essential to have a thorough inspection by qualified professionals who understand how to evaluate homes in these conditions.
Here are some common real estate pitfalls when buying a home in the winter.
Roof Inspections- Home inspectors generally do not inspect roofs that are covered by snow.
It is typical for home inspectors to provide a clause in their inspections that states the roof was covered by snow and was not inspected.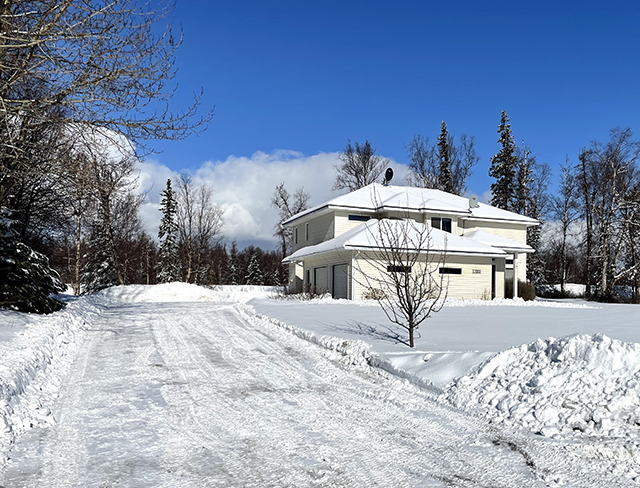 Unless you take additional action during your home inspection, it may be impossible to tell the true condition of the roof until it warms up in the spring. This could lead to a huge surprise and costly repairs down the line. It's important to ask your home inspector if they suggest any additional steps to ensure the roof is in good condition before you buy.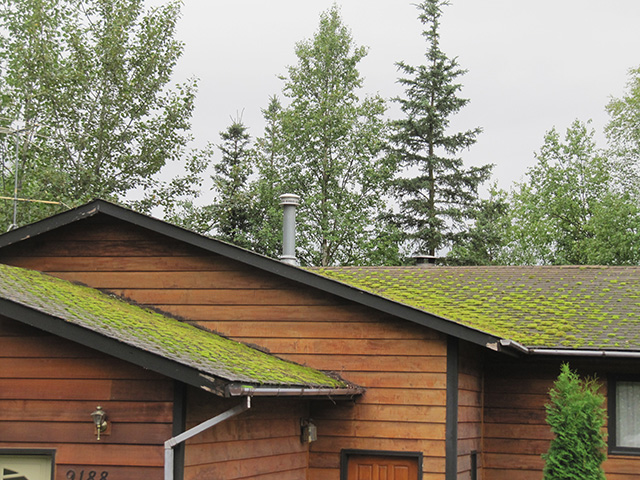 In this situation, you may need to pay for a roofing contractor to shovel the roof to inspect. The entire roof may not need to be shoveled to determine the average condition of the roofing material. Alternatively, you can ask the seller as part of your inspection process to have the condition of the roof verified by a roofing professional.
Landscaping
- Buying a home in the winter means you won't be able to see what kind of landscaping exists. Your expectation may be green grass but the reality could be gravel or no yard at all! It's important to ask the seller if there is a landscaping plan and if they can provide summer photos of the home's exterior yard.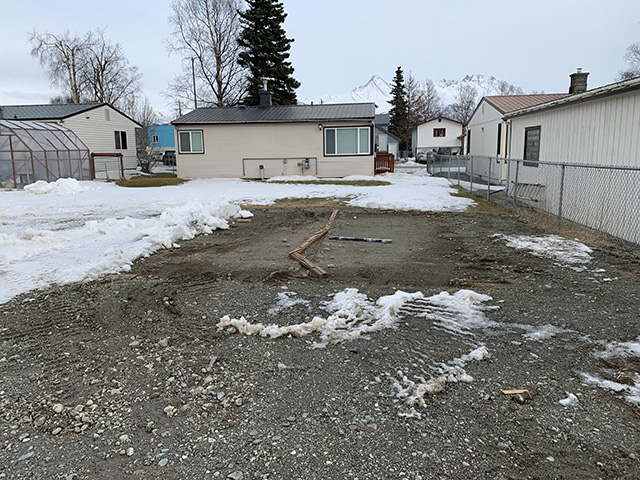 Sinkholes- Winter snow is great for hiding sinkholes, which are created when water erodes the soil or organic material decays in the ground like buried tree stumps. An area that looks level on the surface may be hiding a hole.
Dog Poop
- Don't be surprised if you find dog poop in the spring. Snow can conceal what the seller's pets have left behind and it won't show up until the snow melts! Be sure to have the seller keep collecting dog poop while they are still occupying the property. This will give you peace of mind that your backyard won't be a dog waste minefield when it warms up outside.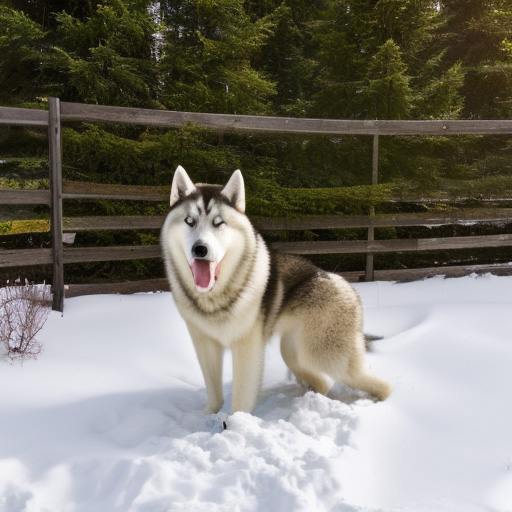 Another option is to ask for a credit to hire a local pet waste company if the seller is unable to clean waste that is buried by winter snow.
Drainage
The break up of the frozen ground and melting snow can also cause drainage issues leading to flooding or pooling water around the home. A qualified professional should be consulted to check for adequate drainage. This is especially important if the home is located in a low-lying area, as the runoff from melting snow may cause flooding. Pay attention to where the home sits in relation to other homes on the street. It is common for culverts to become blocked with snow and ice.
As the temperature begins to rise in March and April, be sure to understand where water runoff will go during break up so there are no surprises come spring time!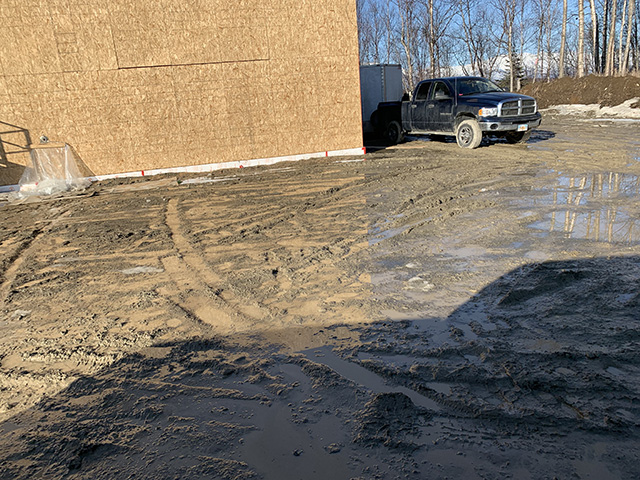 Heating Systems
Heating systems should also be inspected since they will likely have been inactive all summer long. It is typical for a heating inspector to recommend the heating system be serviced by a licensed HVAC contractor and that this service should take place every year for Alaska homes. Most of the time this inspection will be paid for and arranged by the seller.
Pro Tip-
"If a heating contractor is hired by the seller there could be a bias in the result of the inspection. Also, if the heating contractor missed something in their inspection, their client was the seller and not you. This means they may not be willing to correct a possible error they made.
Because of these concerns, it may be best to hire your own heating contractor for the heating inspection."
Often heating systems are not maintained causing premature failure. Furnace filters should be changed regularly. Make sure you are familiar with the location of the filter and how to replace it so that you can keep your heating system running efficiently from year to year. It's also a good idea to consider a backup source of heat such as a gas fireplace or a wood stove. The last thing you want is not to have a backup plan if your heat goes out in the coldest night of the year.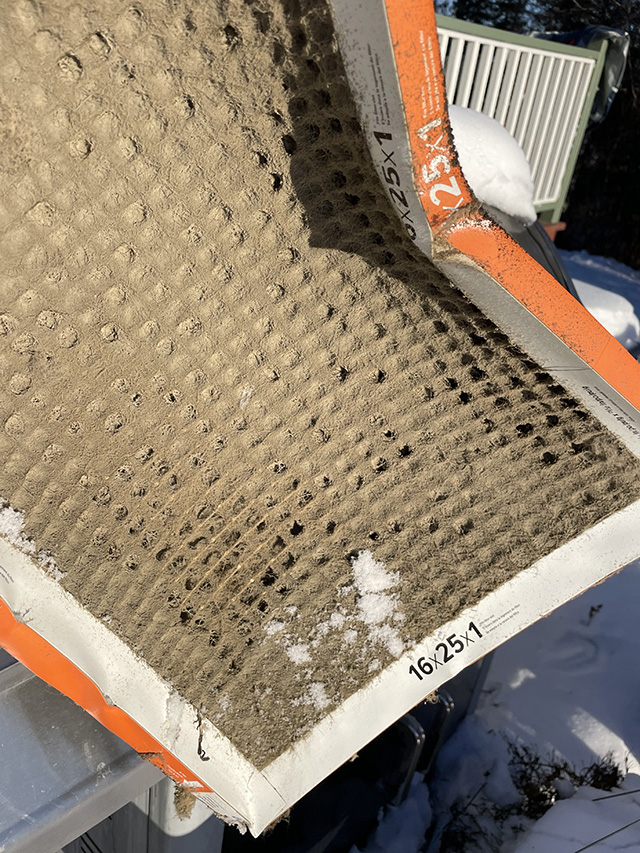 Sun Light
It is important to evaluate sunlight exposure since trees may prevent a significant amount of sun from entering the home during certain times of the year. The sunlight is affected by the winter solstice in a few different ways. The sunlight hits the earth at a lower angle, which makes the sunlight weaker. The sun is also not as high in the sky, so it's harder to see the sun during the winter. In Wasilla Alaska, we will have less than 5 hours and 19 minutes on the winter solstice, the shortest day of the year with the fewest hours.
The leaves on the trees also block some of the sunlight. Pay attention to how high the surrounding trees are and what that might do to blocking sunlight in the summer months.
Mountains can block the sun entirely from the horizon. We are surrounded by mountains here in Alaska that often block the sun's path in the coldest winter months. Pay attention to how close the house is to mountain peaks. Pioneer Peak located near Palmer Alaska, can entirely block the sun during certain winter months like December.
On a side note, as I write this blog, my wife just said "Hey honey, the sun is about to come up". It's 9:50am on November 26th. Looks like a beautiful day with 6 hours and 18 minutes of daylight. What's interesting is sunrise today in Wasilla is 9:38am, but it's blocked by mountain peaks.
Just one more thing to note. Pay attention to how low the home is situated compared to the surrounding topography. There are times in the winter when some homes remain in a constant shadow never seeing the sun during daylight hours.
Septic Monitor Tubes
One potential obstacle during a septic inspection is snow cover. If there is too much snow, it can cover the septic monitor tubes and make it difficult to assess the condition of the septic system. In some cases, the snow may need to be cleared away to get an accurate picture of the septic system. However, septic systems are designed to function properly in all weather conditions, so snow should not have an impact on septic performance.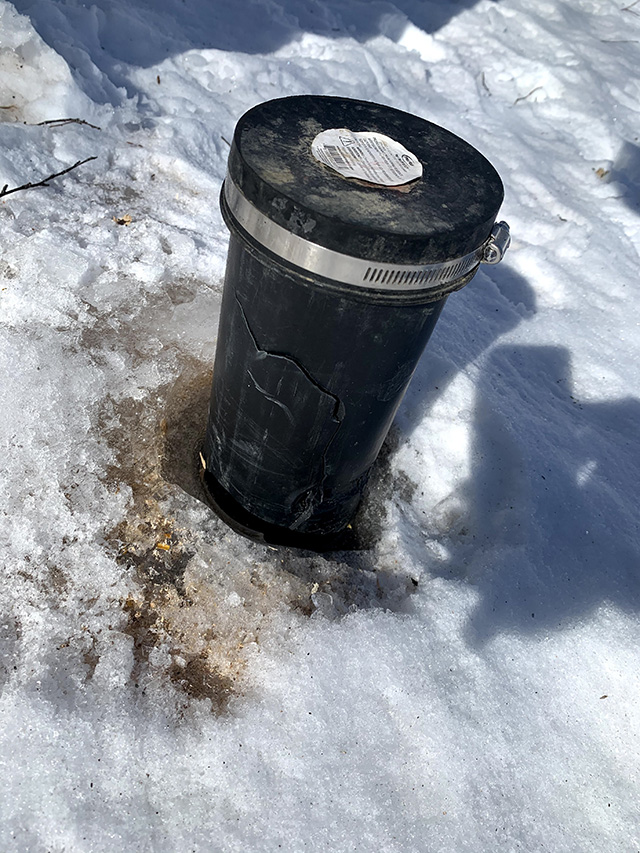 Monitor tubes help engineers to understand the condition of the leach field. However, snow can cover these tubes, making it difficult to get an accurate reading. A septic system may pass a septic test, but useful data may not be available if not all of the monitor tubes are available for testing. You may be missing a warning regarding the future performance of your leach field.
Seller Tip
Make sure your monitor tubes are uncovered and marked before they get covered by winter weather. An engineer will charge more if they have to spend time locating buried monitor tubes. The best time to do this is long before it gets cold. This isn't something you want to do during Christmas break. Yes, that is me in the picture. The things we do for our clients :).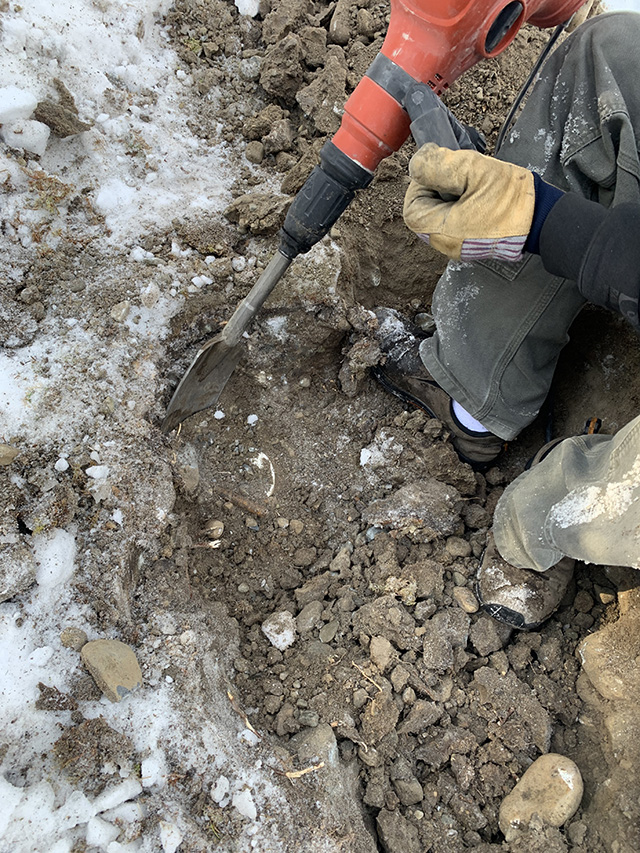 Driveway Slope
The driveway is an important part of the home, providing a safe and convenient way to get in and out of the garage. However, the driveway can also be a source of difficulty in the winter. In particular, the slope of the driveway can make it difficult to shovel snow or remove ice. The steeper the driveway, the harder it is to clear away snow and ice. As a result, homeowners with steep driveways often find themselves dealing with dangerous conditions in the winter.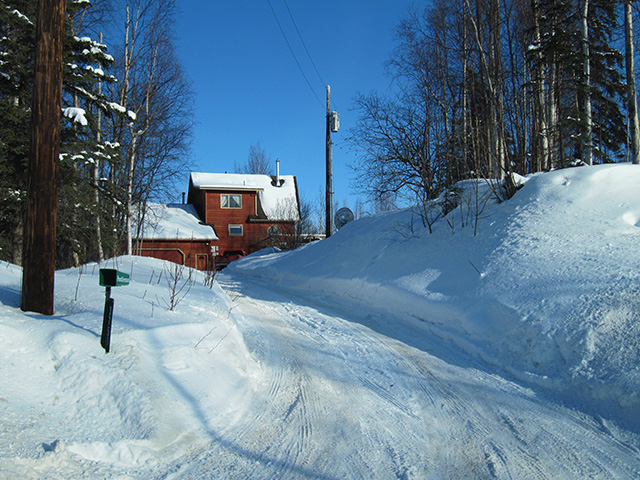 It's a good idea to invest in a quality snow blower or even a snow plow depending on the size of your driveway. Fortunately, there are many small businesses that provide snow removal and sanding to make access to your home safer.
Snow Storage
Did you know that it is actually against the law to push snow across the road? In the Mat-Su Borough, plowing snow on or across a roadway is considered illegal. So what should you do with all that extra snow? One option is to use a snow blower to move the snow into your yard or onto another part of the property.
If a snow blower is not an option you need to consider where a snow plow will be pushing the snow. Consider what type of obstacles may be in the way of storing snow, such as well heads or fencing. Also remember that the snow will melt in the spring, and you need to consider how the runoff from the snow storage could affect your home.
Alaska Rodents
As the weather turns back to low temperatures and the season changes, many animals are looking for ways to stay warm during winter weather conditions. This includes shrews, which are able to squeeze into very small spaces. If there are any openings in your home, it's important to seal them to prevent shrews (and other unwanted rodents) from getting inside. Not only are shrews a nuisance, but they can also cause damage to your home and spread disease. By taking some simple precautions, you can help to keep your home rodent-free all winter long.
Pro Tip-
Pay close attention to the seal on the garage door. This is the most common entrance for rodents. Plus it helps keep out cold air.
All these factors can contribute to an unexpected expense or disappointment if not evaluated in advance. With a better understanding of the potential challenges of winter real estate transactions, you will be in a better position to purchase confidently and with peace of mind.
Give us a call today at 907-268-6505 if you are thinking about buying real estate in the winter and you would like some local guidance along the way. Larry & Jaque Ficek, Better Homes and Gardens Real Estate Dream Makers